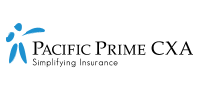 Enhanced Medical Insurance Coverage for S Pass and Work Permit Holders in Singapore: What You Need to Know
The Ministry of Manpower (MOM) in Singapore has recently implemented enhanced medical insurance requirements for Work Permit and S Pass holders, aimed at providing greater protection for workers and alleviating financial burdens on employers due to rising medical costs. 
The enhanced MI requirements are compulsory for all new and existing S Pass and Work Permit (including Migrant Domestic Workers) holders and apply for all MI policies, renewals, and extensions starting from July 1, 2023, for Stage 1 requirements and July 1, 2025, for Stage 2 requirements. 
Employers must understand these changes to provide adequate coverage. In this Pacific Prime Singapore article, we take a closer look at the latest developments and their implications. 
Want to learn more about the three types of work passes in Singapore? Check out this guide to Singapore Work Permits, S Pass, and Employment Pass (Updated 2023). 
Changes to Medical Insurance Coverage for Foreign Workers in Singapore 
Effective July 1, 2023, Singapore's MOM will implement new regulations to enhance the mandatory medical insurance (MI) for S Pass and Work Permit (including migrant domestic workers) holders in two stages. 
To implement for MI policies, renewals or extensions with start date effective from
Enhanced MI requirements

1 July 2023 (Stage 1)

Introduction of a co-payment element* for employers and insurers for claim amounts above SGD $15,000, up to an annual claim limit of at least SGD $60,000

1 July 2025 (Stage 2)

Standardization of allowable exclusion clauses

Introduction of age-differentiated premiums for those aged 50 and below, and those aged above 50

Requirement for insurers to reimburse hospitals directly upon the admissibility of the claim
*Co-payment of 75% by insurers (and 25% by employers) for claim amounts above the first SGD $15,000.
Source: MOM 
A Closer Look at the Enhanced Medical Insurance Requirements
The MOM's enhanced MI requirements aim to provide foreign workers with access to comprehensive medical treatment and care, with changes that include: 
Increased coverage and co-payment requirements

Standardization of exclusions and direct reimbursement

Introduction of age-differentiated premiums
Increased Coverage and Co-payment 
Under the new requirement, the minimum annual claim for medical insurance coverage has been raised to at least SGD $60,000, a significant increase from the previous limit of SGD $15,000. 
This higher coverage ensures that S Pass and Work Permit holders have access to adequate financial protection, allowing them to receive medical treatment, surgeries, and other healthcare services as needed without worrying about hefty medical bills. 
Co-payment 
Employers will also be required to co-pay 25% of claim amounts exceeding the initial SGD $15,000. This means that if a worker incurs a medical bill of SGD $60,000, the employer will have to contribute SGD $11,250 (25% of SGD $45,000), while the insurer will cover the remaining SGD $48,750. 
The image below illustrates four scenarios provided by the MOM, comparing the co-payment between employers and insurers for current and enhanced MI.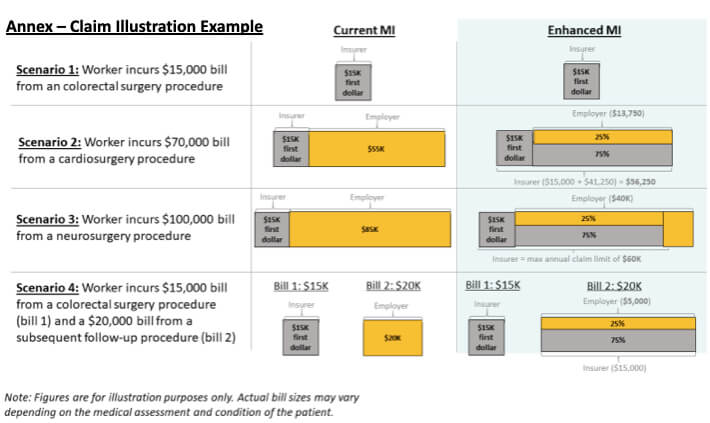 Source: MOM 
The co-payment system ensures that employers and insurers share responsibility, reducing the financial burden on both parties. 
Standardization of Exclusions and Direct Reimbursement 
Starting from July 1, 2025, the MOM is introducing further changes to enhance the efficiency and transparency of medical insurance processes for S Pass and Work Permit holders. 
The standardization of allowance exclusion clauses will provide clarity to employers and workers, ensuring both parties have a clear understanding of medical expenses coverage and eligible claims. 
Direct reimbursement 
Direct reimbursement will also be introduced from July 1, 2025, which means insurers will have to reimburse hospitals directly upon the admissibility of the claim. Likewise, employers won't have to pay upfront and seek reimbursement later. 
Direct reimbursement will not only help simplify the claims process and reduce administrative burdens but also ensure that foreign workers can access healthcare services without delay.
Age-differentiated Premiums
Effective from July 1, 2025, insurers in Singapore are required to offer age-differentiated premiums for workers aged 50 and below, as well as those above 50. This change ensures affordability for younger workers, who make up the majority of the migrant workforce. 
Along with giving younger workers access to essential medical insurance without excessive financial burden, age-differentiated premiums also benefit older workers by taking their specific health needs and risks into account. This allows them to secure adequate medical coverage without facing high costs due to their age. 
Understanding the Implications for Employers in Singapore 
The regulatory change by the MOM in Singapore has raised the minimum coverage limit for medical insurance for S Pass and Work Permit holders from SGD $15,000 to SGD $60,000. 
As employers in Singapore bear legal responsibility for the cost of medical treatment for foreign workers, complying with this revision is imperative to avoid regulatory non-compliance. 
Medical Insurance Requirements for Foreign Workers in Singapore 
According to the MOM, all employers in Singapore must provide medical insurance for foreign workers who are S Pass or Work Permit holders. Similarly, the cost of medical insurance cannot be passed on to employees, and insurance details must be submitted online in advance. 
The medical insurance requirements aim to provide foreign workers with adequate medical coverage during their employment and stay in Singapore. 
Coverage
Starting from July 1st, 2023, employers are required to purchase and maintain a minimum medical insurance coverage of at least SGD $60,000 per year for each S Pass and Work Permit holder. This coverage includes inpatient hospitalization, day surgery, and non-work-related accident or illness. 
Pricing 
The cost of medical insurance depends on factors, such as length of stay, work permit type, and the insurance provider. It is advisable to discuss pricing with your insurance provider or broker and consult the MOM website for the latest information on pricing. 
Required Documents 
The required documents for medical insurance coverage generally include the employee's personal particulars, work permit details, and proof of insurance coverage from an approved insurer. The following information should be provided:
Name of insurer

Insurance policy number

Insurance policy commencement date

Insurance policy expiry date
Recommendations for Employers
It's important to note that these changes specifically apply to employees holding S Pass and Work Permits, while those with an employee pass remain unaffected. Consequently, employers should reassess their existing inpatient and day surgery medical benefit limits for S Pass and Work Permit holders to ensure compliance with the new regulatory requirements. 
These changes are applicable to all policies, renewals, or extensions with a start date on or after July 1, 2023. However, if the policy renewal date falls before July 1, 2023, adjustments can be made during the next renewal cycle on June 30, 2024.
Why the New Regulations are Necessary 
The changes to mandatory medical insurance for S Pass and Work Permit holders, effective from July 1, 2023, have a significant impact on employers and group medical plans. These changes help employers in cost management, especially when they face large medical bills for which they are responsible. 
The higher medical benefit limits offer employers enhanced protection by partially covering larger medical expenses incurred by their foreign employees. Currently, the coverage limit of SGD $15,000 falls short for over 5% of bills, and this proportion will only increase as medical costs rise. 
By raising the annual claim limit to SGD $60,000, a greater number of medical bills will be covered, thereby reducing employers' out-of-pocket expenses. Additionally, the phased approach of these medical insurance enhancements allows for gradual adjustments by employers and insurers.
As the number of insurers offering enhanced medical insurance products continues to grow, the market will become more competitive. This competition provides employers with a broader range of options to choose from. 
How Pacific Prime Singapore Can Help 
Understanding and complying with the new requirements while navigating insurance policies can be complex for employers and HR professionals. Fortunately, a reputable insurance broker like Pacific Prime Singapore can provide valuable assistance. 
Our team of insurance experts can evaluate existing policies, offer suitable recommendations, compare health insurance options, provide tailored solutions, and more to help you secure the right group health insurance plan. 
Contact Pacific Prime Singapore today to ensure you have the right coverage in place and meet the regulatory requirements.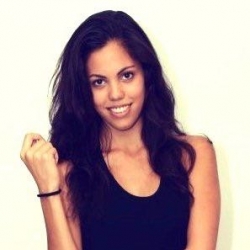 Latest posts by Jantra Jacobs
(see all)