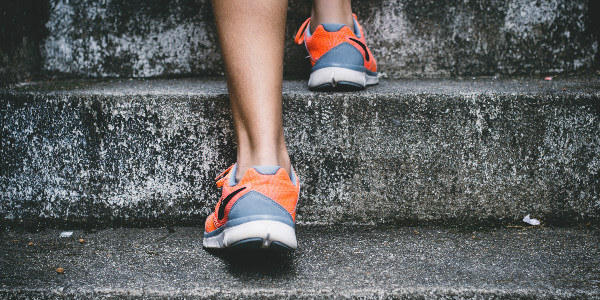 The popularity of wearable tech has been booming in the past few years, becoming as well recognized as smartphone brands. We've previously talked about what to look for in a gym membership in Singapore but this week our focus is on fitness trackers. Products like the Apple Watch, Fitbit, and similar smartwatches are helping people to become more active, but are we using them correctly?
Today, Pacific Prime Singapore looks at fitness trackers, step goals, and whether or not reaching your daily step target is enough to improve your health.
Fitness and fashion: the rise of wearable tech
Watches have always been highly fashionable accessories for people, with brands like Rolex and TAG Heuer making sleek, luxury analogue wristwatches synonymous with the high-life. Digital watches gained popularity in the 1980s and 1990s for their added features such as stopwatches, countdown timers, and alarms. However, this would only another step in the relationship between wearable fashion and technology.
At a stretch, we might think of the cassette Walkmans of the 1970s and 1980s as wearable tech. Chunky by today's standards, these revolutionary devices let people carry personalized music around in a way that hadn't been possible before. Jump past the CD walkman of the 1990s and the recent iPod, and suddenly we're not just carrying around music, but entire computers with us during our daily routines.
Fitness trackers and smartwatches are the current apex of wearable tech, further adding to the extensive features of what a former fashion accessory can offer wearers. Users have been able to measure their daily steps taken, distance travelled, flights of stairs climbed, heart rate, as well as calories burned, all alongside the convenience of checking the time.
The sales of these devices tells of their popularity. More than 23 million units worldwide has been sold in 2016, with brands like Fitbit, Xiaomi, Garmin, and Apple shipping strong numbers. A far cry from the novelty watch calculators of old, these new, sleek fitness trackers have the active and gym-going market in mind. In fact, a previously male-focused watch market has adapted to brand these products in a more fashionable way to attract the active female market.
Why wear a fitness tracking device?
There are a number of great benefits for wearing a smartwatch; they're the reason they're so popular. At their most basic, fitness trackers do exactly that – monitor your activity. What's so compelling about these devices, however, is actually in the way they support and motivate a healthy lifestyle:
Personal accountability:

A lot of these devices come with a smartphone app that can be used to set activity and nutritional goals, and even provide alerts and reminders to help you meet them each day.

Social fitness:

The more competitive or collaborative of consumers will get a buzz from social aspects of fitness tracker apps which allow you to share and compare your activity progress with friends and family.

Sleep tracking:

As an added feature, many wearable devices also allow users to monitor and assess their sleep, providing statistics for time spent in deep sleep and moments of restlessness.
Fitness trackers are definitely a step in the right direction for many, helping generally sedentary people to lead much more active and healthy lives than before. However, there are some concerned that a focus on "step counting" is giving people a false sense of fitness.
Do steps matter? Why meeting your goal might not be enough
Anyone who has a fitness tracker will relate to this: settling into bed and checking their step count at 10pm, only to find they're still 600 steps short of their 10,000 daily goal. Next thing you know, they're up and pacing the house in the pyjamas, trying frantically to march 600 steps around the house before they can comfortably go to sleep.
It might seem funny, but it actually illustrates a key concern of health experts when it comes to fitness trackers. Counting steps is a great way to encourage activity, but what these devices don't quite measure the intensity of a user's exercise. Where 10,000 steps around the office is good, it's still not nearly as effective or efficient as running 10,000 steps.
Why is that? High-intensity exercise is what helps you get fitter. You won't work your heart rate up, pushing your muscles into a sweat, nor burn nearly as many calories if your 10,000 steps are made walking briskly from desk-to-desk each day. Remember: there are many exercises, such as lifting weights, cycling and rowing, that likely don't give you any steps to your fitness tracker data, but absolutely will make you more fit.
What other benefits could I see from my fitness trackers?
As an insurance expert, we've been seeing a few developments in our industry in relation to fitness trackers and healthier lives for policyholders. Insurers are risk averse businesses and the healthier a person is, the lower their risk of needing healthcare. As a result, we've been seeing a growing number of examples of how people might be able to save on their health insurance.
Key examples include discounts for policyholders who meet their fitness tracker goals, company insurance plans that have activity monitoring tied into their corporate wellness plans, and insurers offering gifts and vouchers (such as Amazon gift cards) for using their smartwatches. In fact, major insurer Aetna was reported to have offered their members discounts on Apple watch purchases in order to promote client health.
What we're also expecting, and we've discussed it in our International Private Medical Insurance Inflation – 2017 report released late last year, is that the benefits of fitness trackers adding to the "big data" of the health sector could be huge. Both insurers and other health sector entities (such as hospitals and government departments) could use the data to identify trends that could lead to better treatments and diagnostic tools in future.
Securing insurance in Singapore through Pacific Prime
We're still on the lookout for insurers offering perks and benefits to fitness tracker users, however we do still have some of the best value comprehensive plans available in Singapore. Our expert team have been providing quality insurance solutions to individuals and groups in the Lion City for almost 20 years. If you've been thinking about buying insurance, or you're simply looking for a better deal, contact our team at Pacific Prime Singapore today!